Inspection
Our dedicated inspection department is fully integrated with our IT network including the CAD office.
Inspection is carried out using a state of the art Axiom 3 Axis Co-Ordinate Measuring Machine equipped with a kinematic MIP Renishaw Probe with repeatibilty of 1.5µm and integrated through the Aberlink 3D software suite.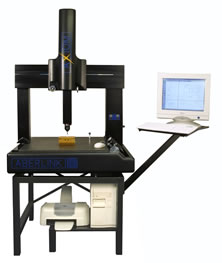 We also have a full suite of Mechanical Inspection equipment including a Mitutoyo Heightmatic 600 height gauge, calibrated granite tables, veniers, comparators, micrometers and slip gauges.
Inspection Reports
Inspection reports can be in the form of fully dimensioned graphical representations as created on the screen, or tabulated reports in various formats that can show nominals, tolerances, errors, pass/fails, geometric tolerances etc. These reports can also be outputted as an Excel spreadsheet. Full offline programming is also available.