CNC Precision Machining & Sheetmetal
CNC Milling - CNC Turning - CNC Sheetmetal Engineering

Tel: +44 (0) 20 8949 7766 - E-mail: sales@paramount-ltd.co.uk
Tel: 020 8949 7766
E-mail: sales@paramount-ltd.co.uk

Electronics CNC Machining & Fabrication
We undertake a high volume of machining and sheetmetal work for the electronics sector, both specialist cnc machined components such as electronics packaging and enclosures from solids, dip brazed fabrications and traditional sheet metal enclosures.
Enclosures From Solids
Thin wall machining can be carried out to produce electronics packaging from solids.
Heat Transfer & Cooling Fins
We are specialists in machining both large and small sets of cooling fins for electronic housing fabrications.
Enclosures, Panels & Fascias
Enclosures, panels & fascia for all types of electronic instruments and computer equipment can be undertaken.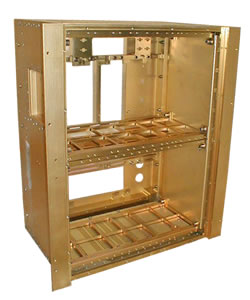 Precision Engineering - CNC Machining - CNC Milling, CNC Turning, CNC Punching, CNC Sheetmetal Fabrication - Welded Fabrications - Milled Parts - Aluminium Machining - Dip Brazed Fabrications - Fine Limit Precision Sheet Metal Engineering - Precision Engineers - Aerospace Machining - Defence Machining - Electronics Machining - Motorspor Machining - Automotive Machining - Medical Machining - Surrey, London, South East