Welding
We offer TIG, spot and Oxy-Acetylene welding with a dedicated clean air welding room.
Our welding facilities have recently been refurbished with dust extraction and gas bottles stored remotely outside for enhanced health & safety.
TIG Welding
TIG welding is ideal for both ferrous and non-ferrous materials. We fabricate specialist jigs where required and have a range of fillers to suit requirements. Most weld joins can be undertaken including fillet & butt welded joints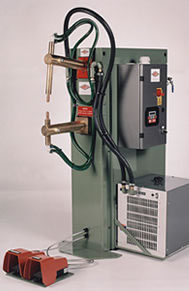 as well as single & double V joints. Our welders have years of experience and can work most other mehtods as required. Our welders are particularly skilled with thin section welding.
Spot Welding
Our 150kVA Meritus Autoforge Spot Welders allow us to offer aluminium resistance spot welding of sheetmetal upto 3mm thick. Spot welding is ideal for large sheetmetal enclosures and boxes as well as other more intricate work.
Oxy-Acetylene Welding
For larger fabrications we are equipped with Oxy-Acetylene welding facilities suitable for mild steel and other steel alloys.