CNC Sheetmetal Forming
Paramount Precision engineering undertake CNC forming to exacting tolerances.
Using the latest technology we are able to offer high precision forming with consistent repeatability.
CNC Sheetmetal Forming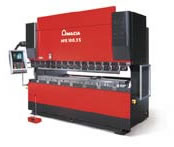 We operate the latest 7 axis 80-ton capacity AMADA promecam brake press with independent control of 'Y-axis' each side of the beam allowing for off centre and taper bending to be accurately executed. This allows us the following cababilities:
Bend Length: 2570 mm
Throat Depth: 420 mm
Open Height: 470 mm
Stroke Length: 200 mm
Ram Repeatability: +/- 0.01 mm
The 7 Axis 80-ton AMADA brake press is also equipped with an automatic angle correction gauge.
We have a large tool library for a wide range of fold types including:
Dutch Folding
Roller V's - for flanges
Deep Box Swan Neck folding blades
.