CNC Precision Machining & Sheetmetal
CNC Milling - CNC Turning - CNC Sheetmetal Engineering

Tel: +44 (0) 20 8949 7766 - E-mail: sales@paramount-ltd.co.uk
Tel: 020 8949 7766
E-mail: sales@paramount-ltd.co.uk

Defence CNC Machining
Much of our work is for the Defence sector with Thales and BAE being two of our largest customers with a smaller percentage being overseas customers.
We undertake both CNC machining and sheetmetal fabrication, which combined gives us a greater versatility than many other work shops. All finishing is carried out locally through close business partners working to strict DEFStan and MilSpec standards.
Components we manufacture are used in a wide range of applications from Main Battle Tanks through to communications equipment and naval products.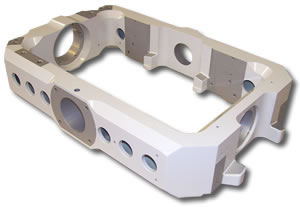 Precision Engineering - CNC Machining - CNC Milling, CNC Turning, CNC Punching, CNC Sheetmetal Fabrication - Welded Fabrications - Milled Parts - Aluminium Machining - Dip Brazed Fabrications - Fine Limit Precision Sheet Metal Engineering - Precision Engineers - Aerospace Machining - Defence Machining - Electronics Machining - Motorspor Machining - Automotive Machining - Medical Machining - Surrey, London, South East